Marriage Certificate Attestation UAE
If you are married overseas or outside UAE and you are required in going through marriage certificate attestation for UAE, then read on. Prior to your marriage license or certificate that was issued abroad recognized in UAE, document attestation is a must. At Notary Public Dubai, we've assisted thousands of clients over the past two decades with the attestation process, including marriage attestation for UAE. As the go-to firm of businesses and individuals whenever there's a need for legalization of documents for use within UAE, our service is backed by the experience and expertise of our seasoned professionals.
Why it's Important to Attest the Marriage certificate UAE?
The document attestation procedure, particularly marriage license attestation for UAE, certifies the document's authenticity. When a certificate is attested by all concerned authorities, it will be recognized as valid for use. For instance, if you were married in India and you wish the marriage to be legal in UAE, you'll have to undergo marriage certificate attestation prior to local authorities accepting it and considering the document as legal and authentic.
It's very important to remember that there are a couple of situations wherein there is no need of marriage certificate attestation. This is why it is best to talk to our attestation team, as requirements and regulations differ depending on the issuing country of the document, use of the document, and nationality of the couple among others.
Make An Enquiry
Is there another term used for the process of attestation?
There are a couple of different names or terms which are used in describing document attestation. Other countries label attestation as document legalization or authentication. There is also the word, apostille, which is frequently used. If you have been instructed to apostille or legalize the marriage certificate that you have which is issued by your home country, what you'll be doing is going through the attestation process.
Process & Requirements for marriage certificate attestation in Dubai UAE
With our team's help, your document will go through three steps. For marriage certificate attestation for UAE, the first step would involve the preparation of the marriage certificate and other requirements for processing.
The second step includes having the marriage certificate attested by local authorities of the document's source or issuing country. If concerned authorities confirm the legitimacy of the marriage certificate, a large reed stamp will be placed directly on it. This means it is now authenticated, as well as ready for the last step.
The final step involves the marriage certificate being reviewed by the Ministry of Foreign Affairs in UAE and the consulate or embassy of the issuing country in UAE. They will confirm that the marriage certificate was authenticated by local authorities and if they meet the specific requirements of the two governmental entities. When satisfied, they'll also be stamping the certificate.
Take note: a marriage certificate can only be attested if it was issued by a local government body. A record of union or marriage that was issued by any religious establishment can't be attested. It is best to confirm this with attestation experts and have your marriage certificate checked for eligibility for attestation. In the event that you have the incorrect kind of marriage certificate, our team may be able to provide you with the assistance you need in getting the correct version of your certificate which is to be attested.
Show more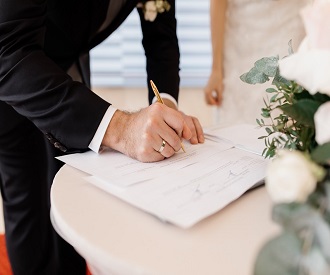 Why Choose Us
Genuine apostille – unlike most service providers of marriage attestation, we don't use a third party service! Our document attestation services are implemented by our team of experts which are based across the globe. Your document will be processed personally by our staff, and have it reviewed and attested by different government entities.
UAE based – as our main office is in the UAE, we know exactly what the local rules and regulations are when it comes to attesting documents for use in the country.
Security – there are only a few authorized staff members which have access to documents for attestation. We only give clearance to employees that sort and process certificates.
Real company – yes, that's right. Operating for over two decades, you will get the assistance of a company that has been established in UAE and with a long history of providing attestation services.
Certificate attestation experts in UAE
We know you want further information! If so, don't hesitate to reach out to us! Notary Public Dubai specializes in document attestation. Our team has all the information crucial for attestation processes which differ depending on the type of document and the source. We will discuss your unique attestation needs, address all your concerns, and outline every option you have!
Remember: attestation of marriage certificates holds a significant value, most especially for couples moving into UAE. UAE law does not allow unmarried couples to live under the same roof while in its jurisdiction.
Show more